---

ARt & MuSic
Workshops
for young people!   Creating a piece of original art can leave a huge inpression on kids & often inspires them to learn more about the arts in general.  I usually have time to coordinate workshops to coincide with my concert tour schedule...  For more information about having an Art / Music Workshop  &  concert in your area, please feel free to  contact me!
Contact

________________

          Making A Diddley-Bow
 

Workshop for kids 7 & up


What in the world is a Diddley Bow?  Simply put, it's a one-stringed musical instrument & a work of art, all rolled into one! This fun musical-art workshop will give kids a chance to make & play their own Diddley Bow...and learn a little about music history & the origins of this unusual one-stringer so often used in the early blues & folk music of America's heartland.  Students will also have a chance to see & hear some other hand-made instruments in the workshop ( tin can banjos, cigar-box guitars, etc) .
..& will learn how music ( & art! ) can be created from almost anything!
---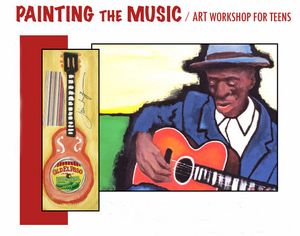 Painting The Music
Workshop for Teens
This art workshop for teens focuses on creating art with a music theme: The workshop is designed to let students  have fun exploring  the connection between music & art, how the arts intersect, how music inspires art & art inspires music...Students will create their own paintings of musicians, or instruments. ( or anything musical) on wood & board,  using acrylics & adding mixed-media elements ( like foil, paper,  found objects, etc) to their  paintings to create new & surprising effects...   The workshop will cover some basics about painting faces, capturing essential features, and will touch on topics like composition, theme, perspective, proportion, light,  color-on-color. techniques...For students of all skill levels,  "Painting The Music!" is designed to let students discover their own creativity &  to have fun with the creative process.
---